Discover more from Worlds And Music
Tim Minneci's newsletter about writing, music, and other things.
October Surprise?
Worlds and Music 10/1/2020
Well hey there!
If you're new here, welcome! Lots of stuff to get to, so let's hit it.
Audiobook. Is there going to be one? In fact, it was done quite some time ago. However, the folks over at Audible are taking their sweet time getting it approved. Apparently the "30 days for review and approval" is more of a loose guideline. So, if you're waiting on that audiobook, I am as well. They have already received on strongly-worded customer service email from me this week. Hopefully some news soon.
On the good news front, THE BLACK SKY has been doing well with reviews on Amazon and GoodReads, the two major places people go to read reviews of books. If you enjoyed the book, and have a chance to, a review would be greatly appreciated. Not just to stroke my ego, reviews actually make a difference in visibility. The more reviews, the more likely a book is to get recommended to similar books when people are browsing for something to read/buy. It's just science.
---
What's Next?
Happenings on THE RED SKY front, the sequel to THE BLACK SKY. A first draft of the opening Prologue has been written. Yeah! I'm revisiting the previous outline for the book and finalizing it before I get into the daily writing schedule. Unlike THE BLACK SKY, which had a tight forty-eight-hour timeline, this one is a bit longer. In addition, the scope is bigger, which means a bit more pre-writing outlining than with THE BLACK SKY.
Also, I've updated THE RED SKY playlist on Spotify. New additions include music from Tangerine Dream, Petar Dundov, and a bunch of Synthwave bands (FM-84, Timecop1983, The Chain Gang of 1974, NINA).
---
Behind The Scenes
I've had people ask - how did you keep everything straight when you were writing THE BLACK SKY? I understand what they're getting at - multiple characters interacting at different points in the 48-hour timeline. As things get chaotic in the final third of the book, it was imperative I didn't get confused. Below is one of the ways I stayed organized, you can click to enlarge and zoom in.

This is about a four-foot piece of butcher block paper. I drew a physical and time-based timeline of where characters would be and what that meant for them in the story. If you read through it, you'll notice a few things.
Names Changed - this was used in the first draft. However, I made several changes to the names of the characters.

Benton = Fenton

T. Dawes = Bishop Dawes

Angela T. = Tessa Dawes

Kelvin = Kell Sanders

Logan = Arch Takeshi

Remy = Ollie DuBois

Decker = Lamb

This map only covers the midpoint of the story to the end. The first several chapters were written years ago (way back in 2011/12), and having it bounce around my head for a while, I knew where the story was going up until a certain point. That's when I need to break out the colored sharpies and plot out the rest. Some writers need very tightly constructed outlines, and others work from the seat of their pants. I'm in the middle. I built a skeleton structure, but allow flexibility to adjust along the way. What do I mean? Here you go.

There were story changes/tweaks as well. Most of those came out of simply having a better idea when I got to the point in writing the story. Under Decker (Lamb), it says he's killed in his office by Angela (Tessa) and Logan (Takeshi). If you've read the book, you know that while he does die, neither of them kill him, and he doesn't die in his office. Part of it was, I don't want this character to die in a boring way. But there was also a character choice, which is addressed in the book both by Bishop and Ollie.

If you're wondering - so Tim, why'd you change those names? A pair of reasons. First was - I didn't want similar-sounding names to confuse people. Ollie was Remy, but then the mayor of Bangor is Pasha Remeny. See what I mean? Second, as I revised, I wanted to inject little things that people could read into if they want. For example, if Remeny means "hope" in Hungarian. That's why I chose it for the leader of Bangor. Lamb was originally Decker, but I thought the name was bland. I changed it to Lamb because there are a lot of chess references throughout the book, and a synonym for Lamb is "pawn." Bishop was originally Tanner. Again, a chess reference. There are plenty more, I'm not gonna spill them all.
Next newsletter, I'm dropping another piece of the Solear easter egg hunt.
---
Stuff I'm Into
Currently Reading - still reading The Relentless Moon by Mary Robinette Kowal. My reading has dwindled this year. Usually, I'm at a book a month pace. This is the fifth of the year. If you're curious, the other books I've read this year are:
The Last Emperox by John Scalzi

The Cartel by Don Winslow

Starship Troopers by Robert Heinlein

The Hitchhiker's Guide To The Galaxy by Douglas Adams
I also started Altered Carbon by Richard Morgan but did not finish, though I enjoyed the two seasons of the show on Netflix.
Currently Watching - High Score on Netflix, Breakfast Lunch And Dinner on Netflix, The Chef Show (Season 2) on Netflix.
Also, the day this goes out is the day after the final episode of The 100. Seven up and down seasons and a very (shall we say) controversial final season are coming to an end. If you've never watched the show, I highly recommend the first season. Not all YA novels have made successful transitions to tv or film (I'm looking at you Divergent), but the first season of The 100 is really well done. Unlike some shows that get stuck repeating themselves into repetitious boredom (COUGH The Walking Dead COUGH), the folks running The 100 took the "let's follow every crazy tangent we can think of" path. For better or worse, it stayed entertaining, if laughably over the top at times.
Recently Listened To - American Head by The Flaming Lips, Fall to Pieces by Tricky, You're Not Alone by Semisonic, Ohms by Deftones, Honor EP by the Jimmy Chamberlin Complex, Plus Four by Sonny Rollins.
What are you watching, reading, listening to at the moment?
---
In the previous newsletter, I mentioned watching Amy Schumer Learns To Cook on Hulu. The two short seasons have been very entertaining and useful, as I've made a couple of their recipes. I specifically want to call out their Spaghetti Pomodoro recipe, which was delicious and easy to make. We've been growing tomatoes in our garden, so I had those on hand. I substituted canned whole peeled tomatoes for fire-roasted tomatoes because that's what I had in the pantry. The recipe made three jars worth of tomato sauce, so if you're going to make it, be sure to have a few extra jars handy.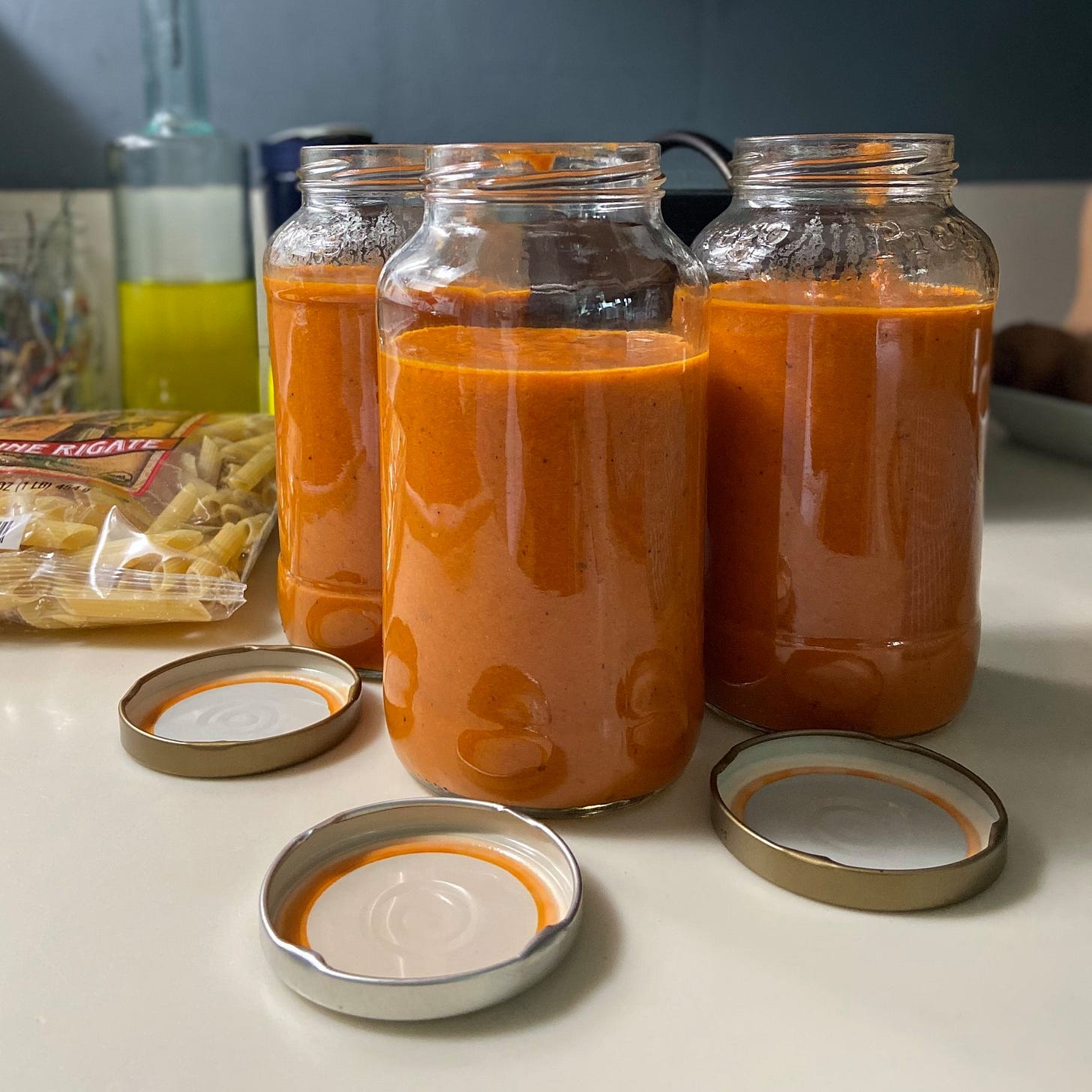 ---
Stay safe!
Tim